diX Parylene Coating System
diX Parylene Coating System has achieved purity exceeding 99% and it makes a Poly-para-Xylene film formed by the Chemical Vapor Deposition Process (CVD).
The film thickness can be uniformly controlled in the micron range to conform to any shape, whether it has a sharp edge or a complicated internal surface without any thermal stress. The high purity of diX Parylene Coating System and our unique approach to handling by-product causes no offensive odors due to decomposition of impurities and no harm to evaporative devices.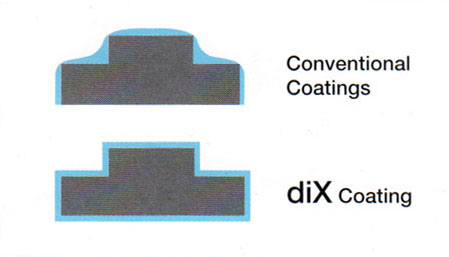 Key Features
1) Excellent electrical properties of insulation and dielectricity
2) Exception rust prevention
3) Strong solvent resistance
4) High gas barrier properties
5) Excellent flexibility at super-low temperature
6) Low out-gassing
7) Excellent thermal stability at O2 free atmosphere
8) Excellent radiation resistance at O2 free atmosphere
Application

• Ferrrite Cores
• Magnetic Cores
• Printed Circuit Boards (PCB)
• Medical Devices
• Rubber Products
• Other Electrical and Mechanical Components