A total system incorporating plastics, processed products and production equipment from around the world.
From multipurpose resins such as polyvinyl chloride (PVC) resin to compound materials and engineering plastics with superior characteristics, KISCO handles plastics that meet every requirement of customers in industries such as automobiles, home electronics, electric power, communications and housing. In addition, we use flexible sourcing worldwide to provide advanced materials for synthetic rubber and related products.
At KISCO, we continuously collect information on new materials that can lead to improved products or new applications. As a result, we can provide total systems that include mold dies and peripheral equipment for processed and finished products as well as basic materials. KISCO's greatest strength is our comprehensive capabilities, which support rationalization and raise our customers' production efficiency.
Furthermore, the Plastics Division carries out global marketing through the KISCO network in the United States, Taiwan and Thailand. In 1998, a joint venture company established by KISCO in Dalian, China will begin production of coloring compounds, further strengthening the company's international procurement, product and sales network.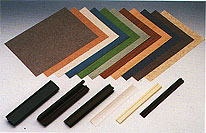 Basic Materials and Processed Products for Residential Finishing
Synthetic resins with superior qualities such as resistance to weather, water and corrosion are used in materials for trim, including window frames, roofing and walls. KISCO provides these materials and processed products to the housing industry.